Two out of the three wrestlers on the McDonald County High School girls' wrestling team advanced to sectionals with a top-four place finish at the Class 1, District 5, Girls Wrestling Tournament held on Feb. 5-6 at McDonald County High School.
Leading the Lady Mustang results was a third-place finish by freshman Jaslyn Benhumea at 102 pounds.
Benhumea was actually guaranteed a sectional berth with only four wrestlers entered in the 102-pound weight class. Benhumea lost her opening match in a first-period pin to Ashlyn Eli of Nixa. Eli entered the tournament with a 34-0 record and went on to beat McKenzie Gormley of Lebanon with another first-period pin to win the district title.
Benhumea rebounded after her loss to Eli to pin Zoey Stanton of Cassville in the first period in the third-place match.
McDonald County's other qualifier is Gisel Aragon. Aragon took fourth out of the seven wrestlers in the 159-pound weight class.
The McDonald County freshman was pinned in her opening match by Trinity Lesser of Marshfield before coming back to pin Ellieahanna DeWitt of Willard and Gabrielle Voshell of West Plains in the consolation bracket to assure her trip to sectionals.
In the third-place match, Aragon was pinned by Lesser for the second time in the tournament to settle for fourth place.
McDonald County's final entrant was Stacy Lopez-Apolinar at 143 pounds. Also a freshman, Lopez-Apolinar lost her first-round match by pin to Lillian Ingram of West Plains before coming back with wins over Kylee Beard of Webb City and Jordan Pierce of Willard to earn a berth in the "bubble" match.
The winner of the match earns a trip to sectionals while the loser is done. Apolinar-Lopez again faced Ingram and, for the second time, Ingram pinned her McDonald County opponent to advance the third-place match and end Lopez-Apolinar's season.
"I'd like to start off by saying how awesome it is to see our community come together to further the sport of wrestling in McDonald County," said coach Josh Factor. "It was just this year where our school board and administration approved us to have a separate girls' wrestling team competing for McDonald County High School. In just the first year of our program, our school was able to host a district tournament, thanks to the support of Bo Bergen (our athletic director) and our building administration led by Angie Brewer (principal).
"Most people in McDonald County are still very unfamiliar with the sport of wrestling, especially when it comes to girls wrestling. I'm hoping that by having opportunities like this we can increase the interest in the sport of wrestling for both girls and boys and get more students at McDonald County High School to give our sport a chance. I am convinced that the sport of wrestling offers life lessons that no other sport out there can teach. It's just been a blessing to see our girls' program pick up this year after having a couple of girls wrestle and compete in last year's final year of the MSHSAA implementation process of girls wrestling.
"As for how our girls did in the district tournament, our coaching staff could not be more pleased with the performance of our three girls. All three managed to win matches at the tournament, including our top finisher, freshman Jaslyn Benehumea, who pinned her opponent, Zoey Stanton from Cassville, in the third-place match at 102 pounds. Benhumea had split with Stanton four times this season, including two at the Big 8 Conference Tournament to prevent Benhumea from being our school's first individual Big 8 Conference champion in girls wrestling. This has been a loss Jaslyn has been working hard to avenge and she managed to pull it off at the district tournament.
"As for Gisel Aragon, she was an unseeded wrestler in the 159-pound weight class. Competing in the district tournament as a freshman, she managed to collect pins over her opponents from Willard and West Plains to advance to the third-place match, qualifying her to sectionals before in the third-place match. For our school to have two out of three girl wrestlers qualify to sectionals says a lot of what the future holds for our girls' wrestling team. As great as it is to have two of our wrestlers competing in sectionals, we were that close to having all three go. Our third wrestler, Stacy Apolinar-Lopez, won two matches, collecting pins over her opponents from Webb City and Willard. Stacy wrestled a great tournament and made huge improvements since the start of the season. I am hoping that her experience of being right on the brink of qualifying to sectionals as a freshman will motivate her to want to come back next year and be a leader on our girls' team. The best part of the performance of these three girls is knowing that all three of them are freshmen and have proven they have what it takes to be successful in this sport."
Lebanon won the team title with 276 points, followed by Marshfield with 144, Cassville 126.5, Nixa 101.5, West Plains 86, Branson 76, Seneca 56, Springfield Central 32, Monett 31.5, McDonald County 28, Willard 24, Kickapoo 20, Diamond 19, Glendale 18, Reeds Spring 18, Carl Junction 16, Joplin 14, Parkview 9 and Hillcrest, Neosho, Republic and Webb City all with 0.
The girls' sectional tournament is set for Feb. 20 at Harrisonville High School.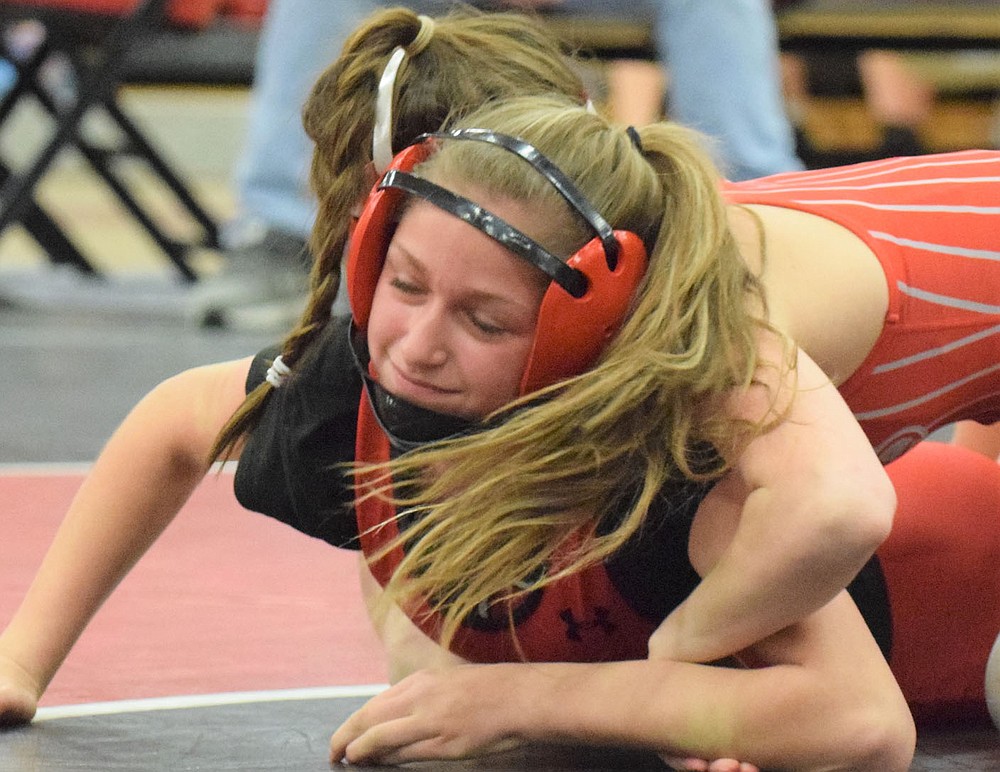 RICK PECK/SPECIAL TO MCDONALD COUNTY PRESS McDonald County's Jaslyn Benhumea tries to fight off Ashlyn Eli of Nixa in a 102-pound match at the Missouri Class1 District 5 Girls Wrestling Tournament held on Feb. 5-6 at MCHS. The undefeated Eli went on to pin Benhumea, but the McDonald County freshman won her next match to take third place.