McDonald County won close battles, but Carl Junction won the war in a 51-25 win over the McDonald County High School wrestling team in a special afternoon match on Feb. 4 at MCHS.
In four out of the five competitive matches, the Mustangs prevailed, including pins by Cross Spencer (132) and Levi Smith (138). In the other two McDonald County wins, the Mustangs received decisions by Sam Murphy (220) and Jayce Hitt (285).
McDonald County's lone loss in a competitive match was a 5-3 loss by Ayden Ball at 126 pounds.
McDonald County's lone lopsided win was a pin by Blaine Ortiz at 113 pounds.
The match, held in front of the junior and senior classes at MCHS, opened with Carl Junction's Lukas Walker pinning McDonald County's Victor Lopez.
McDonald County evened the score when Ortiz pinned Max Matthews late in the first period after Ortiz took his Carl Junction opponent down and let him up four times in the first minute and a half.
Carl Junction's Keaton Colburn was able to take Ball down twice in the first two periods and then held on for a 5-3 decision at 120 pounds.
Jose Mendoza of McDonald County then lost by a first-period pin by Dylan Frazier to give the Bulldogs a 15-6 lead.
But Spencer pinned Chris Zbranek at 132 pounds and Smith pinned Dexter Merrell at 138 pounds to give McDonald County a short-lived 18-15 lead.
Forfeits at 145 and 152 pounds put Carl Junction on top 27-18. The Bulldogs stretched the lead to 33-18 when Lucas Watkins pinned Alexis Molina-Cruz.
Two more forfeits by the Mustangs and Cayden Bollinger's pin of Juan Morales at 195 gave the Bulldogs a 51-18 lead heading into the final two matches.
At 220 pounds, Sam Murphy of McDonald County and Brennan Carey of Carl Junction battled on even terms for most of the match. Late in the third period, the only points in the match were escape points by each wrestler.
But in the final 15 seconds, Carey tried for a late takedown, but Murphy was able to counter and took down Carey for the win.
In the final match of the day, McDonald County Jayce Hitt dominated a bigger Kameron Bennett for a 17-4 decision.
"Anytime we get an opportunity to have our student body at a match supporting our wrestling program and for us to give them some exposure to our sport is a win-win situation," said Josh Factor, head wrestling coach at MCHS. "Obviously we would have liked to get the win, but seeing our kids get excited is nice. It was good to see our guys compete in some tough matches and end up coming out on top. We have a good group of underclassmen and they showed up to wrestle today."
The match closed out the Mustangs regular season. McDonald County will next compete at the Class 3, District 6, Wrestling Tournament on Feb. 12-13 at Carl Junction High School.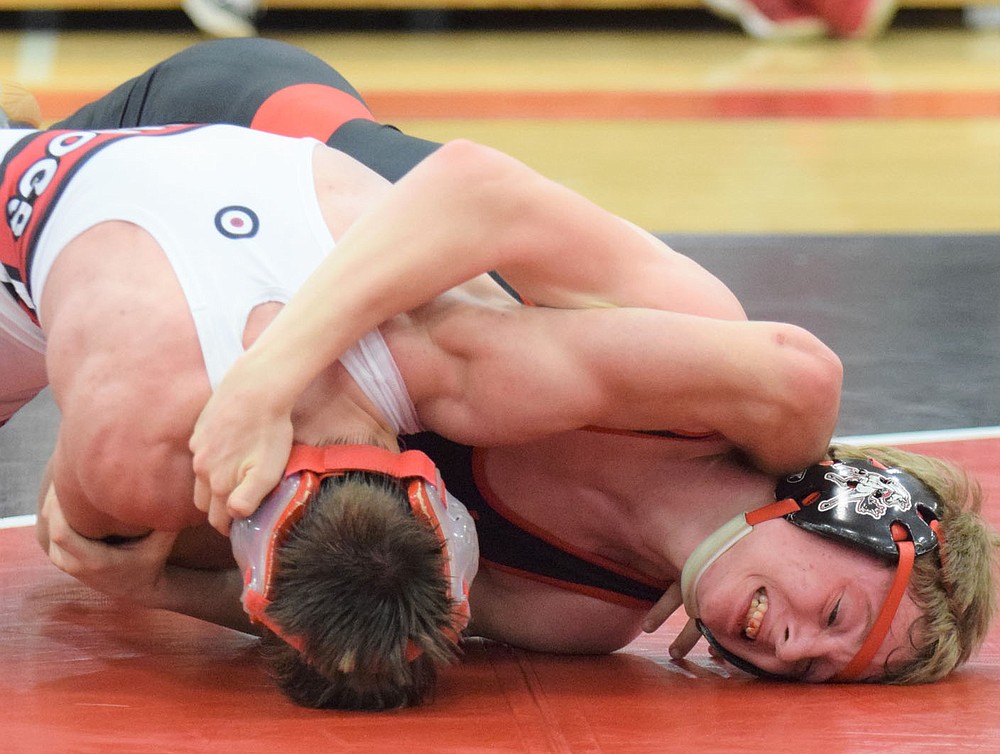 RICK PECK/SPECIAL TO MCDONALD COUNTY PRESS McDonald County's Levi Smith strains to keep from being taken to his back in his 138-pound match against Dexter Merrell of Carl Junction. Smith ended up getting the win by pin, but the Mustangs lost the dual 51-25.