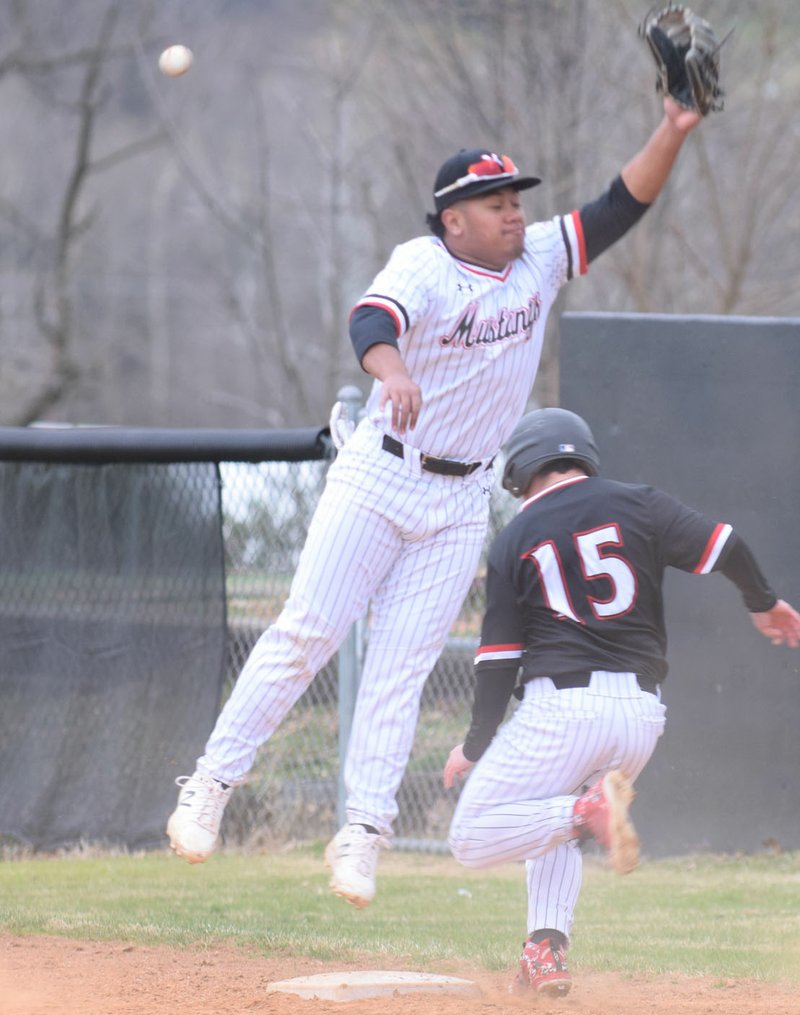 RICK PECK/SPECIAL TO MCDONALD COUNTY PRESS McDonald County first baseman Omar Manuel tries to track down a wild throw as Cory Creason beats out a bunt during a scrimmage held on March 13 at MCHS.
What was supposed to be a four-team jamboree turned into an intrasquad scrimmage when McDonald County High School canceled the March 13 jamboree due to health concerns from the worldwide covid-19 outbreak.
Instead of facing East Newton, Diamond and Purdy, the Mustang baseball team members squared off against each other in a trio of three-inning scrimmages.
Cade Smith and Ethan Francisco started for the respective white and black teams in the first game.
Francisco allowed two runs in two innings, while Smith was touched up for 11 runs, also over two innings.
Koby McAlister took over for Francisco in the top of the third. The senior left-hander allowed three runs on two walks, a hit batter and an error while retiring one hitter before Nevin Price came in and struck out the only two batters he faced.
Sampson Boles replaced Smith in the bottom of the third. Boles walked the leadoff man but retired the next three batters to end the game.
A walk, a hit batter, three errors and an RBI single by Jackson Behm added up to four runs off Smith for the white team in the bottom of the first.
After allowing only a single to Logan Harriman in scoreless first, Francisco was touched for two runs in the second on a walk, a hit batter, a bunt hit by Boles, an error and a walk.
The white team's seven-run second was keyed by singles by Cross Dowd, Levi Helm, Omar Manuel, Price, Behm and McAlister.
Logan Harriman and Rylee Boyd squared off in the second game.
Harriman struck out two in a scoreless first, while Boyd was touched up for three runs on just one hit, a single by Helm.
But Harriman walked three and allowed singles to Tae-Shaun Alik and Smith and a double to McAlister in giving up eight runs in the second before Price got the final out after allowing a hit to Cory Creason.
In his second inning of work, Boyd allowed only a walk while striking out one.
Kameron Hopkins worked both the top and bottom half of the third, striking out four while allowing just a single to Price.
Colton Ruddick struck out the side in the top of the first to start the third and final game.
In the bottom of the inning, Helm was touched for five runs on bunt hits by McAlister, Hopkins and Manuel, a single by Price, a double by Smith and a three-run homer by Behm.
Ruddick and Helm each allowed a run in the second. Back-to-back walks and a hit batter to lead off the top of the inning against Ruddick led to a run without a hit, while Cole Martin's leadoff triple and Price's RBI single accounted for the runoff of Helm in the bottom half of the inning.
Wyatt Jordan worked a scoreless third, striking out one, while Behm faced four hitters and retired them all in the bottom of the inning, striking out two of the four.
"There was some good and some bad," coach Kevin Burgi said. "The best part about it was the things we have been working on, we did well. I was pretty happy with the way we swung the bat and honestly the way we played defense. There are obviously some things to work on, but overall, pretty happy. Not satisfied, but happy with our hitting and fielding.
"Jackson Behm had a great day. He showed up ready to hit. He had a really good pregame batting practice and it carried over to the game. He did a great job on the mound. Jackson Behm stands out. Koby McAlister and Nevin Price had good days at the plate. Kameron Hopkins threw well, especially considering we asked him to do something funny and throw back-to-back innings. Rylee Boyd threw well and pitched through a lot of crap he shouldn't have to pitch through."
McDonald County was scheduled to travel to the Harrison tournament on March 21-22, but the tournament has been canceled.
Burgi said he has been in contact with other schools seeking replacement games, but nothing was set as of press time.
Sports on 03/19/2020
Print Headline: Jamboree Turns Into Four Team Scrimmage
Sponsor Content
Comments